Frustrated With Abstract, Mechanical Lessons?

I was too. Despite years of classes, I didn't have a strong understanding of calculus concepts. Sure, I could follow mechanical steps, but I had no lasting intuition.
The classes I've seen are too long, taught in the wrong order, and without solid visualizations. Here's how this course is different:
It gets to the point. A typical class plods along, saving concepts like Integrals until Week 8. I want to see what calculus can offer by Minute 8. Each compact, tightly-written lesson can be read in 15 minutes.
Concepts are taught in their natural order. Most classes begin with the theory of limits, a technical concept discovered 150 years after calculus was invented. That's like putting a new driver into a Formula-1 racecar on day 1. We can begin with the easy-to-grasp concepts discovered 2000 years ago.
It has vivid analogies and visualizations. Calculus is usually defined as the "study of change"... which sounds like history or geology. Instead of an abstract definition, we'll see calculus a step-by-step viewpoint to explore patterns.
It's written by a human, for humans. I'm not a haughty professor or strict schoolmarm. I'm a friend who saw a fun way to internalize some difficult ideas. This course is a chat over coffee, not a keep-your-butt-in-your-seat lecture.
The goal is to help you grasp the Aha! moments behind calculus in hours, not a painful semester (or a decade, in my case).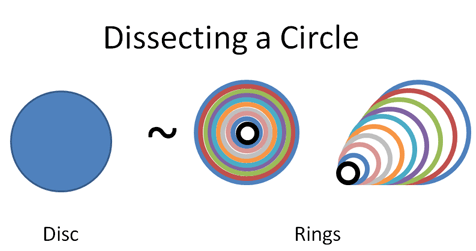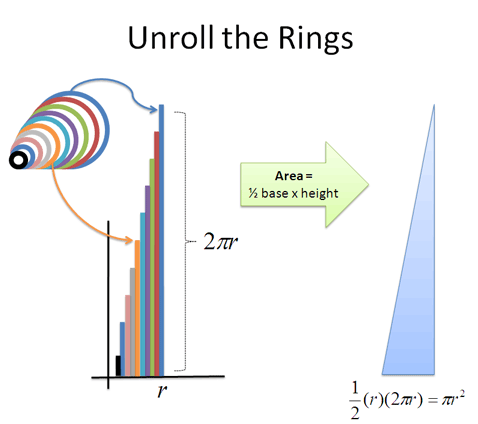 What You Will Learn
The course is split into sections, and you can explore to the depth you desire. You don't need to build a car to enjoy driving one.



Appreciation and Description

Theory and Performance

How To Learn Math

The theme of the course is that starting with the key concepts, not mechanical definitions, makes learning enjoyable. Get the specifics of how to apply this strategy.

The Core Rules Of Calculus

Once we know what calculus does, we can work out the rules for behavior on our own. We can understand, not memorize, the results.

The Calculus Viewpoint

Calculus is a way to see the world with "X-Ray" and "Time-Lapse" vision. Learn to apply this perspective to everyday shapes.

How To Measure Change

The theory behind calculus is about measuring small changes. But instead of starting here, we explore this idea after we've built our intuition.

Describing Calculus With English & Math

Once you can explain the concepts in your own words, learn to express the idea with the official math terms (derivatives and integrals).

Archimedes' Formulas

With our understanding of the rules in place, we use our calculus perspective to discover connections Archimedes spent his life to find.
Join Thousands Of Happy Readers
Here's a few samples of anonymous feedback as people went through the course. The material covers a variety of levels, whether you're looking for intuitive appreciation or the specifics of the rules.
I've done all of this stuff before, and I do understand calculus intuitively, but this was the most fun I've had going through this kind of thing. The informal writing and multitude of great analogies really helps this become an enjoyable read and the rest is simple after that - you make this seem easy, but at the same time, you aren't doing it for us…This is what math education is supposed to be like :)
I have psychology and medicine background so I relate your ideas to my world. To me the most useful idea was what each circle production feels like. Rings are natural growth…Slices are automatable chunks and automation cheapens production… Boards in the shape on an Arch are psychologically most palatable for work (wind up, hard part, home stretch). Brilliant and kudos, from one INTP to another
I like how you're introducing both derivatives and integrals at the same time - it's really helps with understanding the relationship between them. Also, I appreciate how you're coming from such a different angle than is traditionally taken - it's always interesting to see where you decide to go next.
That was breathtaking. Seriously, mail my air back please, I've grown used to it. Beautiful work, thank you. Lesson 15 was masterful. I am starting to feel calculus. "d/dx is good" (sorry, couldn't resist!)
Personal Discussions To Help Ideas Click
It's not enough to read about an idea - it needs to click for you. After each lesson there are class discussions to help resolve any questions you may have. Here's a few excerpts: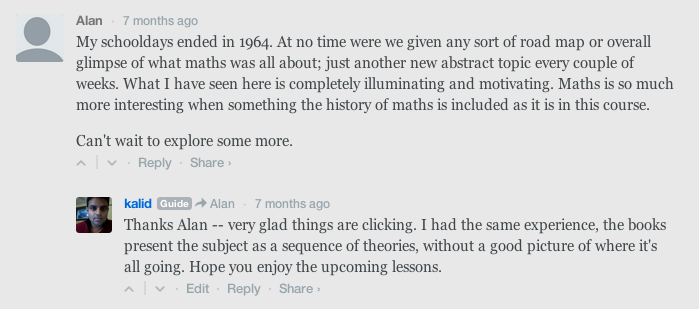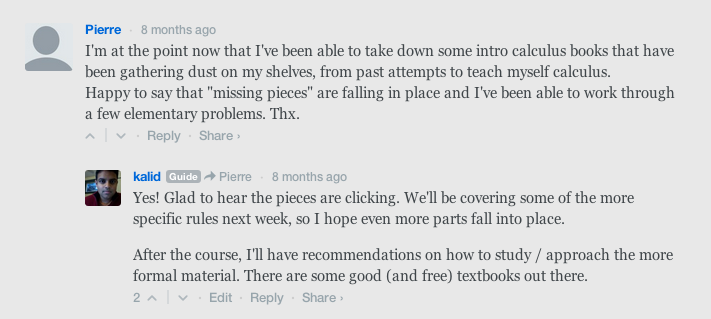 Lessons For Lasting Intuition
The ebook was made with care, from a print-quality layout, to vivid diagrams, and analogies that help ideas click in seconds.
A lot of math lessons seem to present detail after detail, without an emphasis on visualization or lasting understanding.
These lessons are based on articles read by millions of readers, and evolved with thousands of comments and direct feedback. Here's what's you'll get in the course:
15-chapter eBook with a professional layout ( sample)
15 video lessons walking through each chapter (2.5 hours total)

Original PowerPoint slides and images for all diagrams
Quizzes to check your intuition and check for a genuine understanding
Invitations to class webinars
Q & A
What math background do I need?

It depends on the depth you want to go to. I think anyone reading this can handle the first 4-5 lessons. The latter ones require basic algebra. No trigonometry, just being able to expand out equations like (x+2)(x+3)=x 2+ 5x + 6.

How are the videos delivered?

The videos are hosted online, right inside the lesson, along with downloadable versions (mp4 format, playable on iPhone/iPad and your computer).

You don't need any special software - if you can see the videos on this page, you can access everything you need for the course.

How does this compare to other math classes or books?

I wrote this course because despite years of math lessons with the best schools and textbooks, I still didn't have the intuitive understanding I needed.

The resources I've seen tend to march through details on how to do math without explaining the why.

My goal is to build a lasting understanding of Calculus, long after the specific formulas have been forgotten.

What if the course doesn't work for me?

That's no problem at all. Just contact me within 60 days for an immediate and unconditional refund. I'm proud to say the course has a 99% satisfaction rate.

I created the explanations I dearly wish I'd found in school, but completely understand if they aren't a fit.

Can I email you with questions?

You bet. If you purchase the course, feel free to contact me with questions for any of the topics covered, or use the discussion area that appears with each lesson.
Grasp The Concepts Behind Calculus Today
Complete Course
$99
eBook, Videos, Slides, Discussion
Online Course Text
Print-quality PDF ebook
Video walkthroughs for each lesson
Per-lesson class discussions
PowerPoint slides for all diagrams
Quizzes to check understanding
Invitations to class webinars
Buy Complete Course